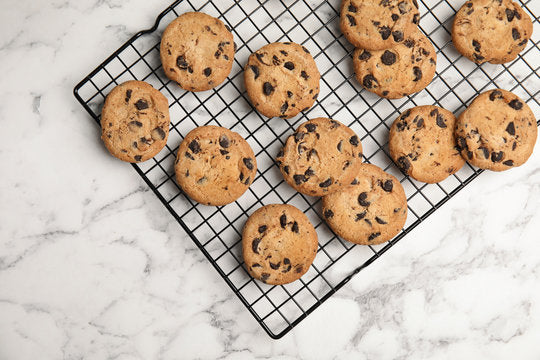 Mocha Gold Choc Chip Cookies
Feeling like an isolation treat which combines your 3PM caffiene hit and sweet pick-me up in one? Look no further than our #MochaGold Choc Chip Cookies.
Danes Mocha Gold Choc Chip Cookies (Makes 15)
Ingredients
1 Espresso Shot of Danes Mocha Gold
80g Unsalted Butter
80g Caster Sugar
80g Brown Sugar
1 Egg
200g Plain Flour
15g Baking Powder
150g of Milk / Dark Chocolate (or mix it up)
1 Teaspoon Vanilla Essence
1 Teaspoon Seasalt
Method
Pre-Heat oven to 165 degrees.
Beat together the butter, sugar, vanilla essence and espresso shot.
Once all combined, add in egg and combine again.
Add in sifted flour, baking powder, salt and combine.
Fold in Chocolate Chips
Once combined, weigh to 40g cookies and place onto 2 lined trays.
Cook for 10 Minutes!